News and Updates on Necronomicon,
Tampa's SF Convention.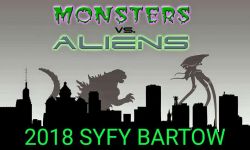 Update 2-21-18!
On February 17th, representatives of Necronomcon manned a booth at SyFy Bartow to promote the Con. Vist the PR page for a summary of the event and to see a bunch of pictures.
Update 11-20-17!
Necronomicon 2017 was a rousing success! These webpages are in flux as we prepare for 2018. Some may have new information, but some old info is likly hanging around too. Updates should be fully in place by the end of January, if not sooner. Thanks!
That's all for now. Check back for late breaking headlines.
---
---
Necro Home Necro News Join Us Hotel Guests Dealers Gaming
Art Show Schedule Charities History Contact Us Site Map
Master Page Stone Hill Necronomicon Southern Media Con Links