New Hotel FAQ
Hilton, Downtown St Petersburg

In 2008, Necronomicon changed Hotels. Things worked pretty well and we will be at the Hilton in downtown St. Petersburg again in 2012. Below is a FAQ about the new hotel.

You've moved? Where to?
Hilton St. Petersburg Bayfront
333 First Street South,
St. Petersburg, Florida, 33701-4342
Tel: 1-727-894-5000
Fax: 1-727-823-4797

But why? I liked the old hotel!
Check the Stone Hill livejournal for the reasons behind the move. http://stone-hill.livejournal.com/ Look for the post near the bottom from November 15 to Novemeber 18th of 2008.

Ok, so how much are the rooms?
Rooms Single/double - $128, triple $139, quad-$149. There are two type of Suites available. Alcove Suites for $249 and a larger one we don't have a price on yet. The larger ones will need to be reserved over the phone, and can't be reserved online.

How can I make reservations?
You can go to this specially created link:
Hilton Reservations
A block of rooms have been reserved for October 27, 2012 - October 29, 2012. The special room rate will be available until September 22nd or until the group block is sold-out, whichever comes first.
Of Special Note: The Tampa Bay Rays will probably be in the playoffs in October, so hotel rooms in downtown St Pete will get booked up FAST! If you want to get a room, reserve early!

How do I get there?
Here is what the hotel says about that:
From Interstate 275, take Exit 22: Interstate 175, which is the same exit as that for the Bayfront Center. At fourth traffic light turn left onto 1st Street S. Hotel two blocks on left. And here is some more information about getting there from TIA, as well as a map:
Hilton's Map page.
Directions are also be posted on this website, on the Directions page.

Ok, what's the deal with parking?
Parking at the hotel is $12 per day at the hotel and includes in and out. There is only room for about 200 cars there. There is a city parking garage only 1 block away that is $5 per day Sat and Sun, with max amount on Friday $6. There is free parking in the local area. This is such an important issue; we have a webpage just for Hotel Parking.

What's to eat in the area?
The Staff of the con will have a Food Map available with your program book. If we have it compiled in time, we'll add it here too. Let's just say, a lot. And there is a Publix 1 block away.

What's the layout? Where will (insert event) be held?
The program book and grid schedule at the Con will list what rooms things are held in. Expect a PDF of the progam book on the Necro-File page about a week or two before the Con. Look to the bottom of this page for a hotel map for last year. (One or two rooms may be changing for 2009)

So, what's the place look like?
Here are links to the hotels layout page.
Hilton St. Pete Bayfront
Lower down, at the top of the chart, click "View Floorplan" to see the map. Or just look at the one below, which I created from their blue print.
At the top, click "Tour Hotel" to see pictures.

The con suite will be on an upper floor, in a suite. The room number will be listed at the convention. Of special note: Food from the Con Suite MAY NOT be taken out of the Con Suite area. If you get it there, you eat it there.

As ususal, click image for a larger version.
This map is from 2011, the layout WILL change for 2012.
When we have a map ready, it will be posted here. Probably in September.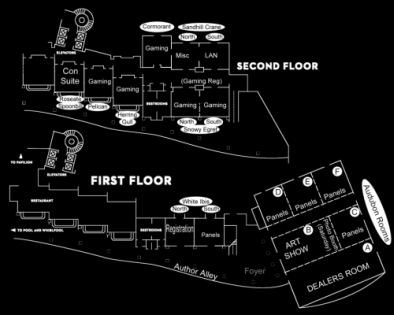 ---
Necro Home Necro-File Join Us At The Con Guests Directions
Art Show Gaming History Charities Contact Us Site Map
Master Page Stone Hill Necronomicon Southern Media Con/Necro Game Day Links